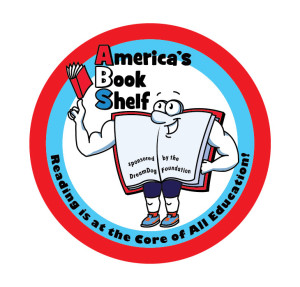 "America's Book Shelf" (ABS) — Okay, so you could say we are passionate about getting books in the hands of children who otherwise, might not have gorgeous quality books of their own. But, we are equally as passionate about providing opportunities for our next generation to step up and "BE THE CHANGE YOU WISH TO SEE IN THIS WORLD" through our "Kids Making a Difference" and "Do the Right Write Thing" programs. So, we thought it would be nice for you to get to see some DreamDog Magic in Action!
America's Book Shelf is currently located at these sites:
• Martha's Table
• Chance School
• Sacred Heart School
• St. Thomas More Catholic Academy
• Little Friends for Peace at Perry School
Here are some of our DreamDog Teens out in our community giving back, setting up not one, not two, but three ABS sites at Martha's Table in Washington, D.C.

First, we stickered all the books then sorted them by age level.

Our "Do the Right Write Thing" Summer Camp created an elementary school ABS area,

then a middle and high school ABS site.

The finishing touch of any DreamDog program…LOVE and HUGS!